Product designation
Pre-cleaning grain separator SPO-80 serves to pre-cleaning of foreign impurities in the heap of chaff and grain taken from fields with input moisture max. 35% and impurities content max. 20% (under impurities removal min. 0,5, with removal of coarse impurities large than wire mesh size and partially light impurities in the aspiration part of the machine). Separators are used to be installed at the reception to the silos, in the preparation blocks of grain storages and grain mills. SPO-125 is produced in accordance with third category of GOST 15150, climate version "U".
Specifications
TITLE

VALUE

SPO-80

SPO-125

Capacity of wheat cleaning with its bulk density 0,67 t/m3, with impurities content max. 10% (incl. straw-containing impurities max. 1%) and moisture 20%


max. 80 t/h

max. 125 t/h

Rated power, kW


11,0

11,75

Overall dimensions, mm


3089õ1828õ

3023

3089õ1865õ

3322

Fan shaft speed, rpm

827

827

Wire mesh drive shaft speed, rpm


68

68

Shaker impact frequency, bpm


272

272

Impurities removal shaft speed, rpm


512

Weight, kg, max.


1500

1600

Rated capacity for other crops should be determined with consideration of factors mentioned in the table below:
| | | | | | | | |
| --- | --- | --- | --- | --- | --- | --- | --- |
| CROP | VOLUME WEIGHT, kg/m3 | CONVERSION FACTOR | MESH SIZE* | CROP | VOLUME WEIGHT, kg/m3 | CONVERSION FACTOR | MESH SIZE* |
| Wheat | 760 | 1,00 | 15x15 | Spring vetch | 800 | 0,70 | 15x15 |
| Maize | 700 | 1,00 | 20x20 | Winter vetch | 800 | 0,60 | 15x15 |
| Pea | 800 | 1,00 | 20x20 | Sorghum | 750 | 0,60 | 10x10 |
| Beans | 850 | 1,20 | 20õ20 | Rice | 700 | 0,50 | 15x15 |
| Spring barley | 720 | 0,85 | 15x15 | Sunflower | 355 | 0,40 | 20x20 |
| Rye | 700 | 0,90 | 15x15 | Sugar beet | 300 | 0,40 | 20x20 |
| Winter barley | 650 | 0,80 | 15x15 | Panicgrass | 850 | 0,80 | 10x10 |
| Soybean | 720 | 0,75 | 20x20 | Rapeseed | 700 | 0,30 | 10x10 |
| Cannabis | 615 | 0,75 | 10õ10 | Oat | 500 | 0,70 | 15x15 |
| Buckwheat | 650 | 0,70 | 15x15 | | | | |
* Mesh size depends on the size of product in process and is agreed and approved with customer.

With increasing of above mentioned norms of impurity and raw material moisture, separator technical capacity reduces by 2% for every percent of impurity increase and by 5% for every percent of gain in moisture.

Structure and Functioning

Pre-cleaning grain separator SPO-80 (pic.1, a) consists of receiving chamber 1 and pneumatic aspiration system 2, that are represented as a prefabricated welded construction made of sheet material.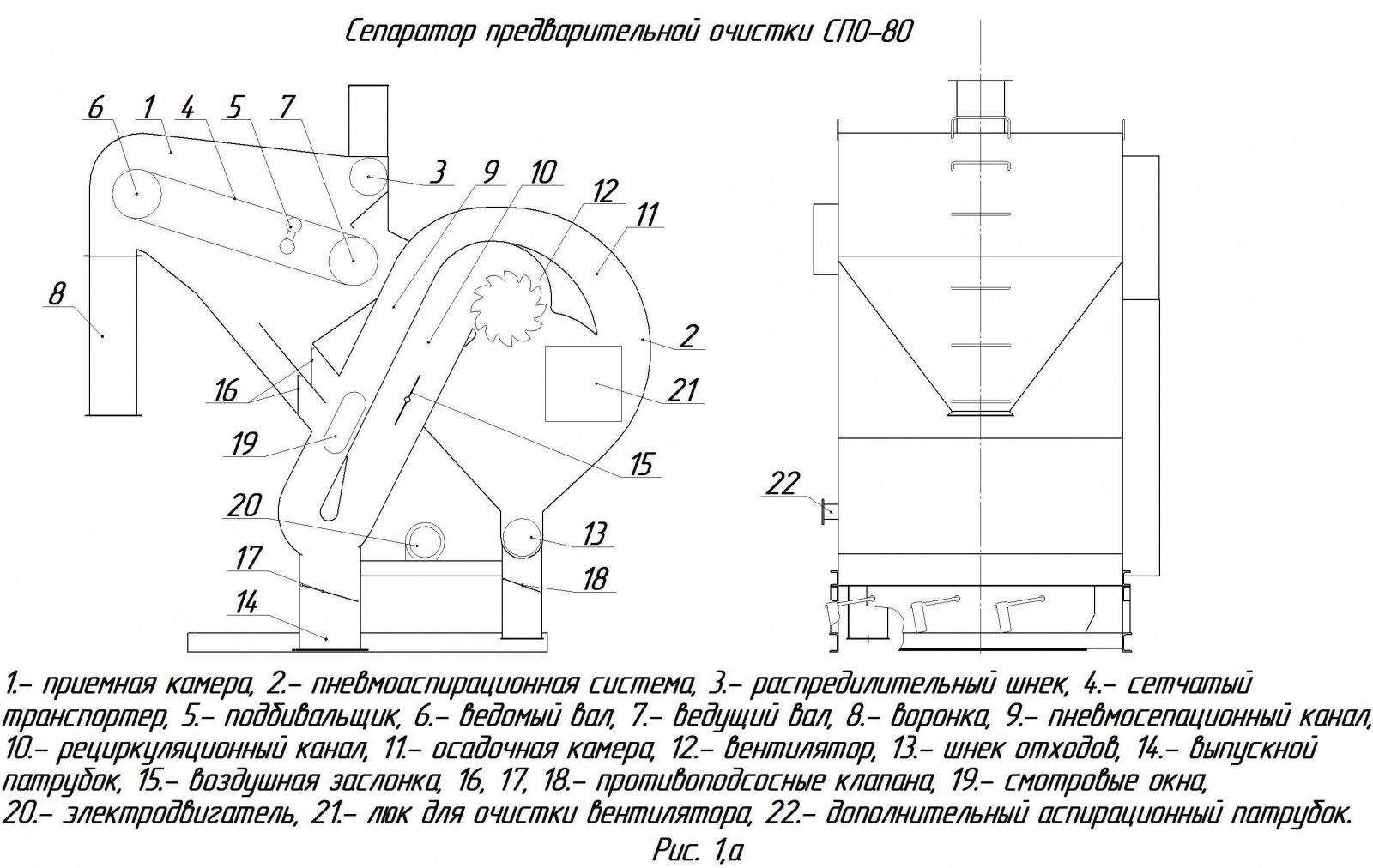 Receiving chamber consists of distributing auger 3 with valve feeder and regulated weight, "endless" wire mesh conveyor 4 which edges are secured with special sections of roller chain, shaker 5, driven shaft 6 and driveshaft 7 with drive sprockets and bearing rollers, chute hopper 8 for removal of foreign impurities and matters, incl. straw-containing impurities.

To the settling chamber 11 over the width of separator cross flow fan (rotor) 12 and screw 13 for removal of settled tailings (impurities) are built-in. At the bottom of aspiration channel two outlet ducts 14 for removal of cleaned grain from the separator are specified.

To the pre-cleaning grain separator (SPO-80) product comes through inlet nozzle, distributing auger 3 and over the entire width of separator constituting a uniform layer comes to wire mesh conveyor 4. Grain with dust and light impurities spills through wire mesh and comes to the air separation zone (area).

Coarse foreign impurities go up a wire mesh conveyor and are removed from the machine (separator) through chute hopper 8. Regulating flap valve 15 is installed in the settling chamber for regulation of air flow. At the outlet of grain from the separator anti suction valves 17 are specified, at the outlet of light tailings – anti suction valve 18. Inspection windows 19 are specified for visual observation of grain cleaning process and fixed at the walls with rubber seal. Special duct for sampling is installed for control of air flow regulation.

Electric motor 20, V-belt transmissions and chain transmission are applied for fan 12 drive, distributing auger 3, screw for removal of settled tailings (impurities) 13, driven shaft 6 and driveshaft 7, shaker 5.

Tension pulleys and tensioning screws provide belts and chains tension. Detachable service door 21 is specified in the settling chamber 11 for fan cleaning from the dust.

Pre-cleaning grain separator SPO-125 (pic.1, b) consists of feeder 3, receiving chamber 1 and pneumatic aspiration system 2, that are represented as a prefabricated welded construction made of sheet material. SPO-125 differs from SPO-80 by construction of receiving chamber and existence of the feeder.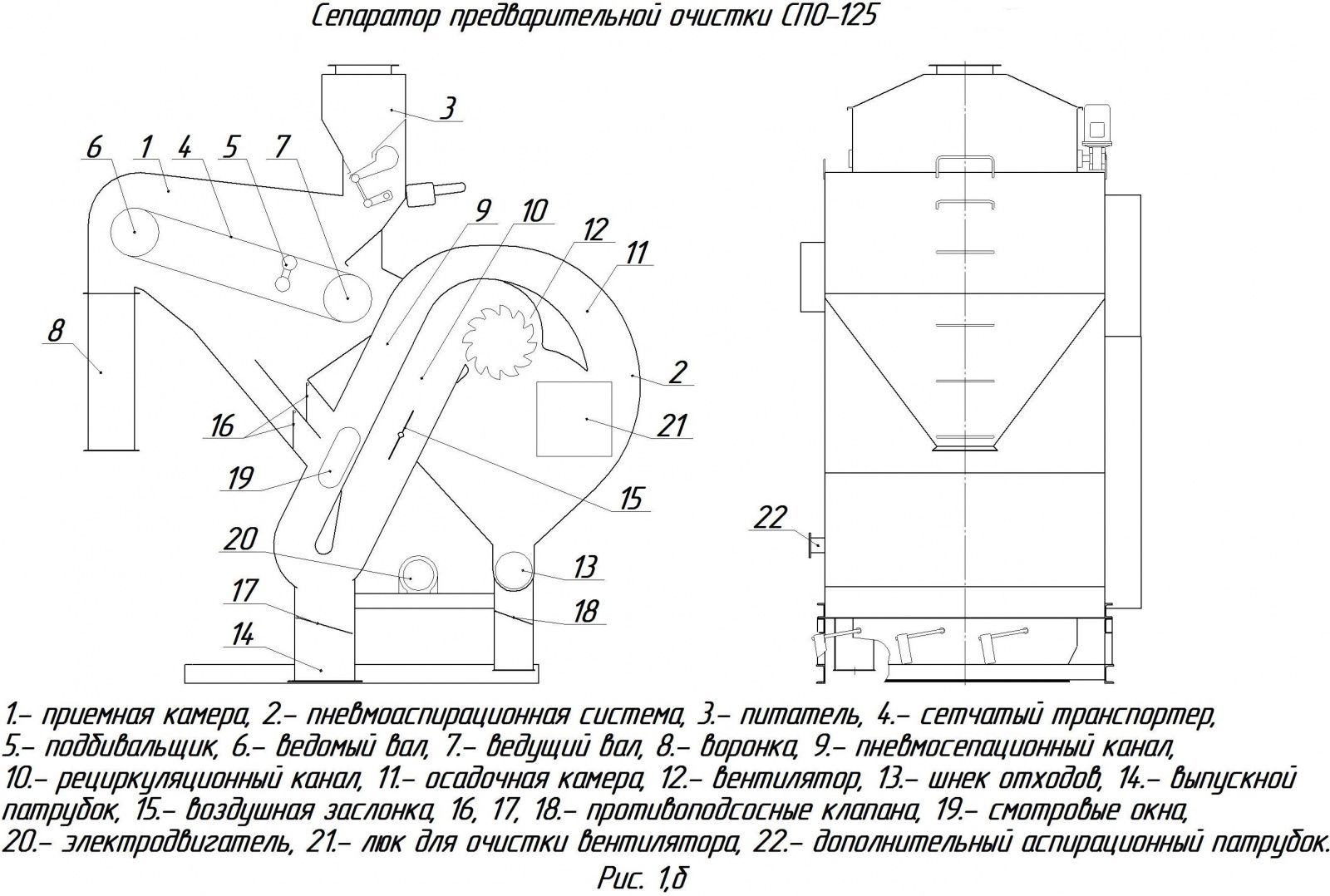 The feeder consists of hopper, slide valve (swinging weight valve) installed on the shaft and regulation weight. Feeder is equipped with separate drive, gear motor, which is installed on the sleeve shaft.

Cleaning product through the inlet nozzle comes to the feeder, where distribution of heap of chaff and grain and steady product input to the screens are accomplished due to swinging weight metering valve. Actually swinging weight valve serves as slide valve which oscillates towards imaginary point, thereby decreasing and increasing product inlet slit, accomplishing turning and constant product discharge.

Swinging weight valve is in constant movement and driven by rotating eccentric shaft of the feeder. This provides an opportunity to avoid voluntary bypass and assists in product forcing to functional area. Regulation of valve counter balancing weight is effected by weight movement along levers and depends on capacity and product weight density. Counter balancing weight has to be regulated so that delivered product filled the space to cover upper inspection window by at least one-third. At the same time product, coming through inlet nozzle at some speed, hurtles the layer of raw materials in hopper and pretends impact to hopper walls, reducing wearing process and extending service life of walls. Due to filling of the hopper with raw materials there is no air suction from zone of pouring to separator; it also provides efficient operation of the feeder aspiration system. Uniform clearance 10 mm. from fixed boundary (wall) provides fast unloading of product residues in case of supply stoppage. The clearance is provided by swinging valve and regulated by fixing screws.

Thus feeder serves both for equal product distribution over the width of supply to the screen and for primary seeds aspiration.

In case of incorrect installation of feeder counter balancing weight, especially with a particularly lightweight product (for example oat), the product may plug up in feed tube and bring out of operation the whole complex. Keep track of weight position depending on feedstock supply and control its level in upper inspection window.

Receiving chamber consists of "endless" wire mesh conveyor 4 which edges are secured with special sections of roller chain, shaker 5, driven shaft 6 and driveshaft 7 with drive sprockets and bearing rollers, chute hopper 8 for removal of foreign impurities and matters, incl. straw-containing impurities.

Settling chamber (pneumatic aspiration system) does not distinguish by construction and operation concept. To the pre-cleaning grain separator (SPO-125) product comes through feeder inlet nozzle, distributing auger 3 and over the entire width of separator constituting a uniform layer comes to wire mesh conveyor 4 (pic.1,b).

Further process occurs the same as in separator without feeder. Electric motor 20 and V-belt transmissions are applied for fan drive 12, screw for removal of settled tailings (impurities) 13, driven shaft 6 and driveshaft 7, shaker 5. Gear motor is applied for feeder drive.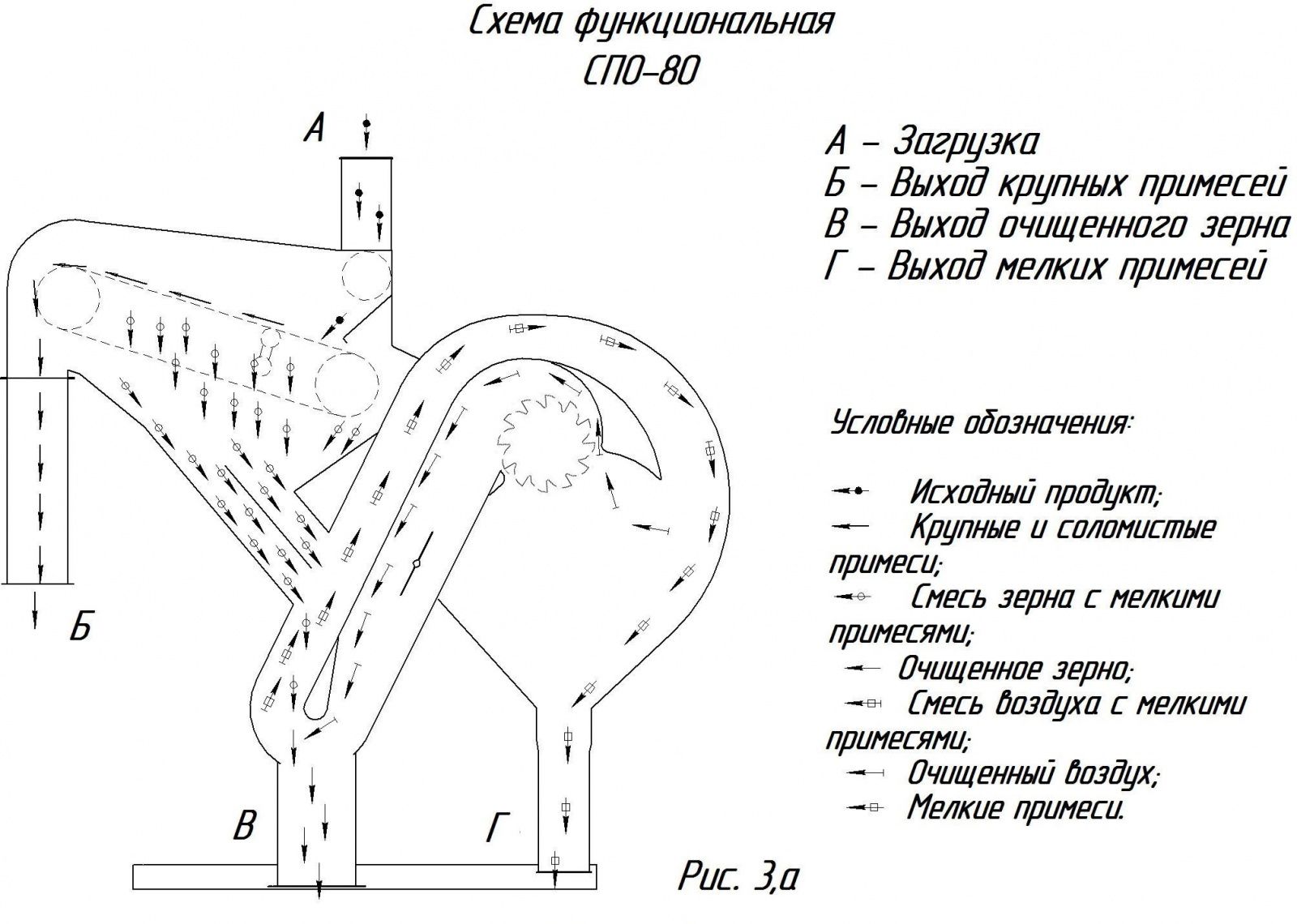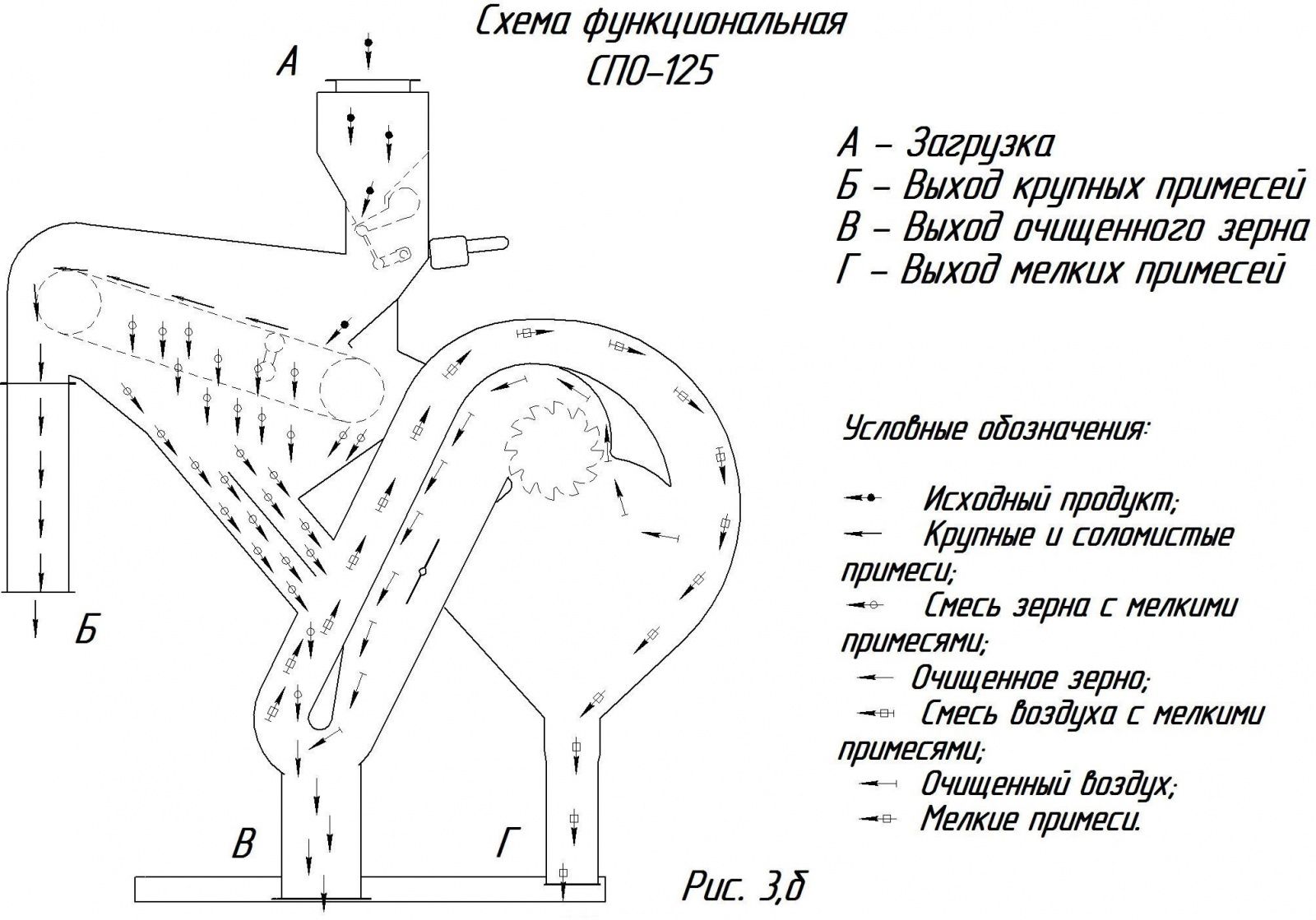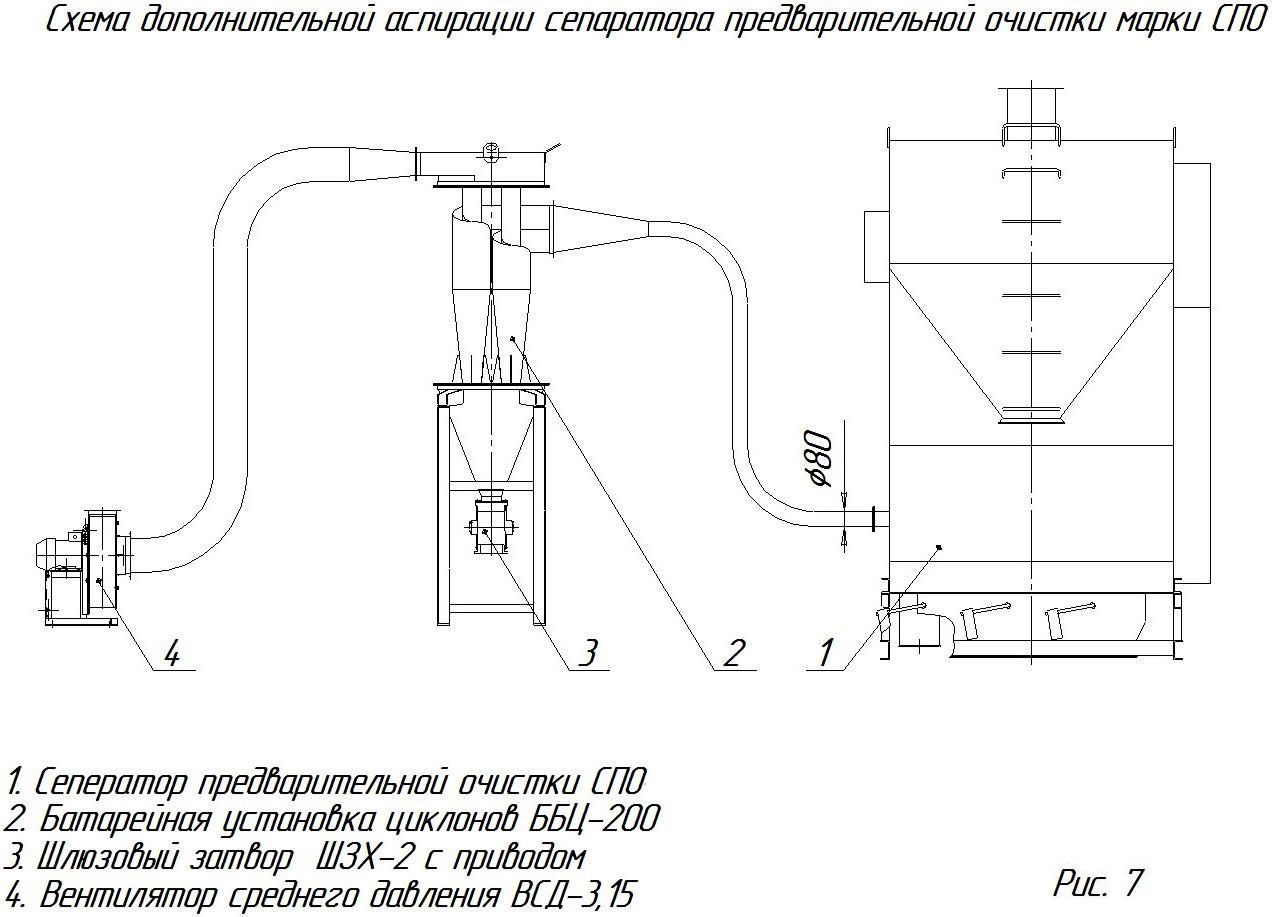 Comparative analysis of SPO-80 and SPO-125 over analogues

Capacity
is higher due to the buildup of the following parameters:
width (1330 mm instead of 1265 mm) and length (1050 instead of 800) of wire mesh conveyor functional area, as a result functional (active) area is increased on 38% (1,4 m2 instead of 1,01);

cross section of aspiration channel in the product inwards area 1500õ290 mm instead of 1250õ240, as a result channel area increased on 45%;

fan shaft speed 827 rpm instead of 690/720;

wire mesh speed 0,98 m/sec. instead of 0,78;

shaker impact frequency 272 bpm instead of 216;

speed of auger for impurities removal 512 rpm instead of 365;

slope of floor in holding chamber (50î instead of 45î) that increased seeds descent.
Reliability
is higher
because thicker and liberal
:
metal for walls of the housing component parts – 2,5÷3 mm instead of 1,5. We can work with thin materials, but heavy gage of walls provides greater rigidity and vibrostability of construction, that positively impacts on bearings service life (mainly in fan);

electric motor with greater power supply 11 kW instead of 4,75-6,5-7,5. During usual modernization construction was completed with beater (at the product transfer from the receiving chamber to aspiration channel) and additional shaker shaft, electric motor with 7,5 kW power was replaced by 11 kW. In this configuration power consumption during test measurements was 8,5 kW. Additional shaker shaft hasn't provided significant performance growth and it was rejected along with the beater (reasons see below), while it was decided to use a new electric motor despite of power consumption at a level 7,4-7,5 kW.
What are the benefits:




(+) electric motor operates with 70% load ratio – easy copes with launch and peak load;

(+) motor mechanical components are designed for higher load and as a result serve longer;

(+) detrimental effect of electric power quality is minimized (voltage variations, especially low voltage, unsinusoidality or unbalance);[1]


(-) actual power consumption is not much greater than with 7,5 kW motor under nominal conditions;

(-) the only significant disadvantage is price – 11 kW motor is more expensive by approximately 200 USD.

However 11 kW motor is optional, we can install 7,5 kW motor at customer's request.

The effectiveness is also higher:

Mathematic simulation of air flow in pneumatic aspiration system of the previous (MPO-50) and updated SPO-80 was carried out in regulated (certified) laboratory, on which basis pneumatic aspiration system was optimized:
- bottom part of the aspiration channel is lengthened;
- form of «drop» in the bottom part of delimitative wall between aspiration and recirculation channels is changed;
- end of the upper part of delimitative wall at the input to the settling chamber obtained aerodynamic shape;

- curvature of settling chamber is changed;

- all this in complex led to the reduction of return air zones and aligning of flow velocity vectors. [2]
Accordingly it is necessary to admit conceptual difference of aerodynamic characteristics of SPO-80 and MPO-50M (Voronezh) with curved (deflected) form of aspiration part from rectilinear edge of ALFA-50, MPO-50M machines (Dnipropetrovsk region). It is easier and chipper to produce such machines, but they poorly manage with aspiration tasks.









Increasing of slope of floor in holding chamber provided an opportunity to give up on beater, which forcedly loaded grain to the aspiration chamber and served as anti-suction valve. In the new construction, due to increasing of slope of floor, grain flows by gravity with faster speed and anti-suction-valves are installed instead of beater. That led to reduction of product damages and performance improvement, it also reduced the load of motor on 1,1 kW and provided an opportunity to reduce maintenance charges (1 drive train and 2 bearings). Short-term experience of beater application in SPO-50 showed the increase of grain damage, especially maize.




For this reason application of screw instead of beater at the product intake to the receiving chamber preferred, but we took things a step further: in the modification of machine with feeder (SPO-125) inlet (distributing) auger is replaced by the feeder with slit-like slide valve, which oscillates and makes impossible grain damage, and increases performance of the machine due to the more equal distribution of product across the width. We strongly recommend SPO-125 for processing of seed grains even in case of excess capacity.




Besides higher capacity, reliability and effectiveness, it is also

more convenient in use

, as design of the machine provides:



large quantity of lancing doors for cleaning of machine body cavities from dust and for easy replacement of wire-mesh conveyor;


ladder on the machine for easier maintainability and replacement of wire-mesh conveyor.

What do we have, and what they do not have (either totally or partially):

Deficiency of shaker – for wheat (ray, oat etc.) with law impurities and moisture content it won't gravely impact on cleaning quality, but under high impurities and moisture content, especially for maize and sunflower, it will cause increased blowout of grain with coarse impurities, especially under mesh size 10*10.
Deficiency of auger for impurities removal – alternative construction – valve with flyweight implies that light impurities settle at the bottom of aspiration chamber and when their weight exceeds flyweight, light impurities by gravity force through the valve that results in dumping of the settled impurities. This dumping cycles and break circulation regime in the aspiration chamber (decompression and steplike speed reduction of air flow in aspiration channel are occurred along with reduction of cleaning quality), besides that in the intervals between dumping light impurities from heap on the valve inside aspiration chamber are repeatedly captured by air stream to the discharge duct and partially fall to the grain at the output.

Full-time operating auger unload in our separator is free from such disadvantages. Besides, there is a shield over the auger unload inside settling chamber for impurities detention near the auger that is also absent in ALFA construction and its analogues.

Deficiency of anti-suction valves at the grain intake to the aspiration part of the machine causes air stream pressure (speed) fall in aspiration chamber over product intake zone, because part of the air flow is directed to the holding chamber and blown out along with coarse impurities. As a result the heaviest particles from light impurities are removed along with grain, as there is no enough pressure for their transferring into the settling chamber.

In our separator all three zones – product input, grain outlet and light impurities outlet (even after the auger) – are equipped with anti-suction valves.

Specified service life in our technical passport determined in accordance with standards that were assigned during initial launching into manufacture in 1999 and on which basis it was certified. All separators produced in 1999 are still operating, along with those produced at a later time.

About excess capacity

Sometimes there is no need in 80 tons/hour capacity and 50 tons/hour is quite enough – with comparable prices the answer is obvious: at partial load actual cleaning quality, especially from light impurities in the aspiration part, is significantly higher than in analogues. Many grain storages, especially small ones, where there is no need in ultimate capacity, apply wire mesh 10x10 for wheat, use scheme with additional aspiration [4] and achieve such cleaning quality that provides an opportunity to dispense with additional processing on screen separators (cleaning/screening machines) BSH-100.
Theory and practice, or rather theory based on practice

Terminal velocity, boundary layer, air stream inlet angle and many other useful things might be found in academic literature since the time of modern machines prototypes creation. Well-grounded theoretical materials about their operation concept expounded, for example, in scientific work"Separation processes at the grain-processing enterprises" by V.V. Gortinskiy, A.B. Demskiy, Moscow, Kolos, 1980 (find at our website at SPO tab, Materials). Those theoretical considerations were tested by soviet second-generation computer ECM "Minsk-22m". Time is not stopping and we keep an eye on all new studies and researches in fields related to our industry and production. We have the opportunity (and we actively use it) to test out the most promising, in our opinion, ideas.
Not all innovations pass the test. For example, application of beater for grain input to the aspiration channel. In the above mentioned study of 1980 [7] it was also mentioned, that "separation conditions for capture and removal of particles by air flow with angle of their input to the channel α = -100 and α=00 are more favorable" (page 168). The theory of beater application in more details is still developing, for example ABSTRACT of dissertation [8].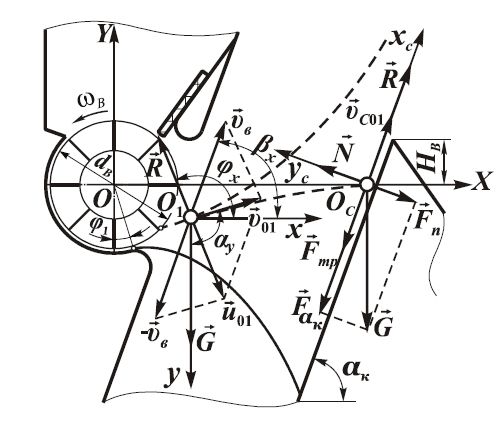 We launched a batch of SPO with beaters. Real, although insignificant increase of cleaning quality occurred that confirmed theoretical calculations, but side-effect of grain damage in the area between blade side plane of beater and housing (especially sunflower and maize, which 15% turned into grist) not only wiped away all the beneficial effect on small and middle grains (wheat, rye etc.), but also made its application on large grains economically inconvenient.















[1].
2.2. Influence of power quality indexes on operating efficiency of current-using equipment
Induction motors

In case of voltage deviation on motor clamps, rotor frequency and turning moment are changing along with change of resistance loss value and consumed reactive power value. That causes changes in economic parameters, which characterize motor operation.

Active power losses in fully loaded motors, which operate under constant resisting moment, are increasing with reduction of voltage affected by rise of current electricity consumed from electric system, and under the voltage rise these losses are reducing. With steady voltage deviation 0,9 Unom motor service lifetime is reduced by half.

…
Voltage deviations influence the value of losses in motor that is why thermal deterioration of insulation depends on voltage deviation and motor load ratio. With positive deviations insulation service lifetime Tc in comparison with Tnom value under nominal voltage and load ratio varies inversely to squared coefficient of loading Kç:

It is obvious that under Êç <1 thermal deterioration of insulation decreases.

With negatory deviations insulation service lifetime reduces and determines by the following equation:


.
Therefore in the context of motor heating-up, negatory voltage deviations, in considered limits, are more dangerous.

…
If induction motor operates under nominal rotating moment and negative-sequence voltage ratio 4%, insulation service lifetime will be reduced approximately by half only because of additional heating. If voltage on one of the phases will be much higher than nominal, the reduction of insulation service lifetime will be even greater.

[2]. Mathematical modeling of airflow in pneumatic aspiration system of pre-cleaning grain separator SPO-50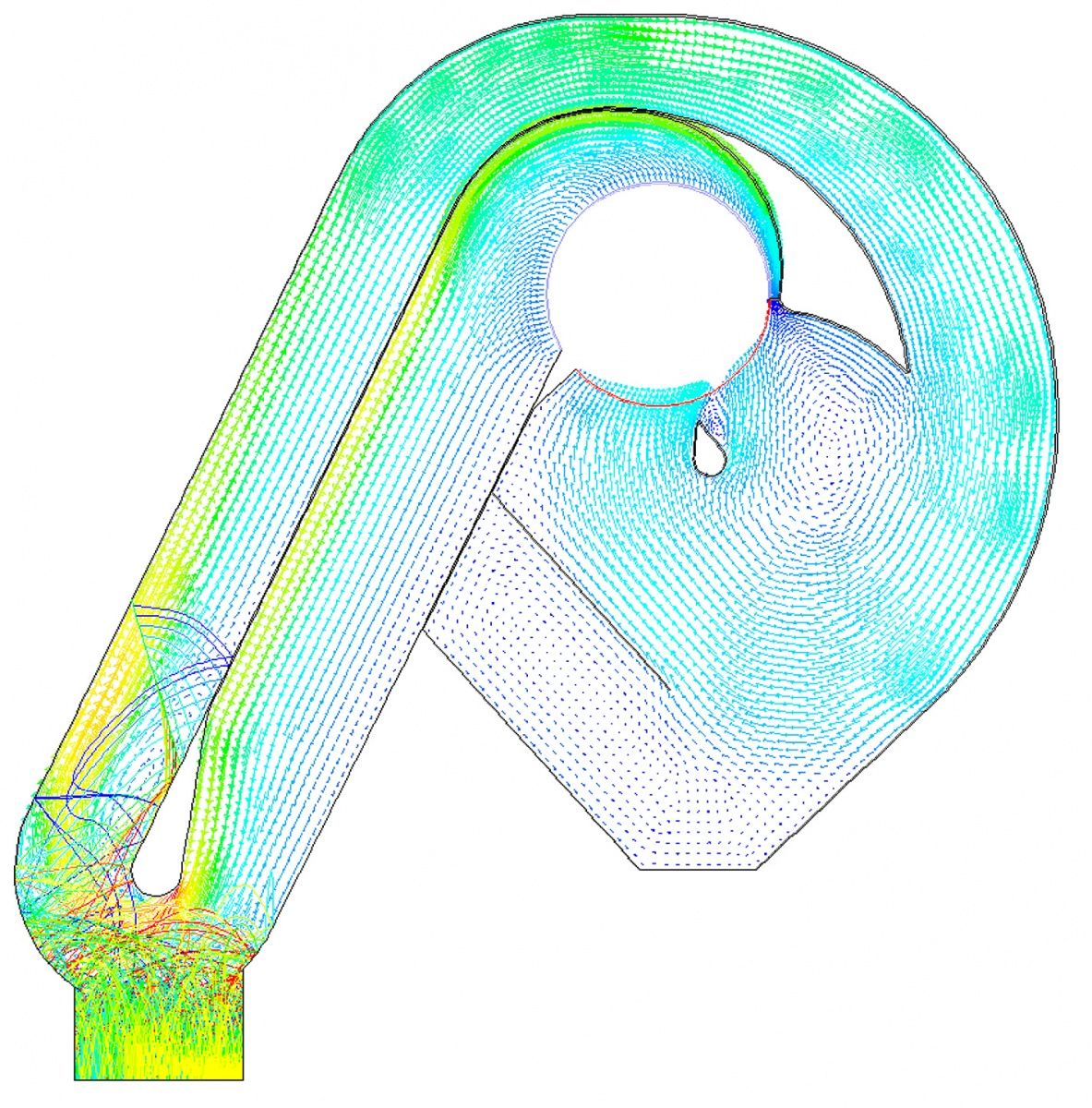 [3]. At the input to aspiration channel grain falls into the main stream of airflow at the first time (about velocity distribution and air flow density in channels - [5]) depending on its outlet point (upper or lower layer, seed position in grain layer - bottom or top) and weight, primary sieving is occurred and seeds hurtle the inclined opposite wall of the channel. At the time of hit, separation of adhered to grain foreign impurities particles is occurred, grain overturns, bounces off of channel wall and falls to the main stream of air flow for the second time (total from 2 to 5 times in process of falling), during this process cleaning from adhered particles is occurred (depending on height of contact point, weight, point of grain hurtling), which in case of free fall in vertical channel stay in surrounding aerodynamic layer around the seed [6]. In the vertical channel (ALFA) part of seeds do not hurtle the wall at all, and part of seeds slide along channel walls, where air flow strength is significantly weaker.
[4]. Delimitative wall between aspiration and recirculation channels (transfer) finishes in the lower part by the "drop" with aerodynamic shape. The "drop" is hollow inside and there are slit-like slotted holes on its wall from the side of recirculation duct. Additional aspiration is connected to the hollow and through slotted holes sucks out the smallest impurities fraction, which haven't settled in the settling chamber.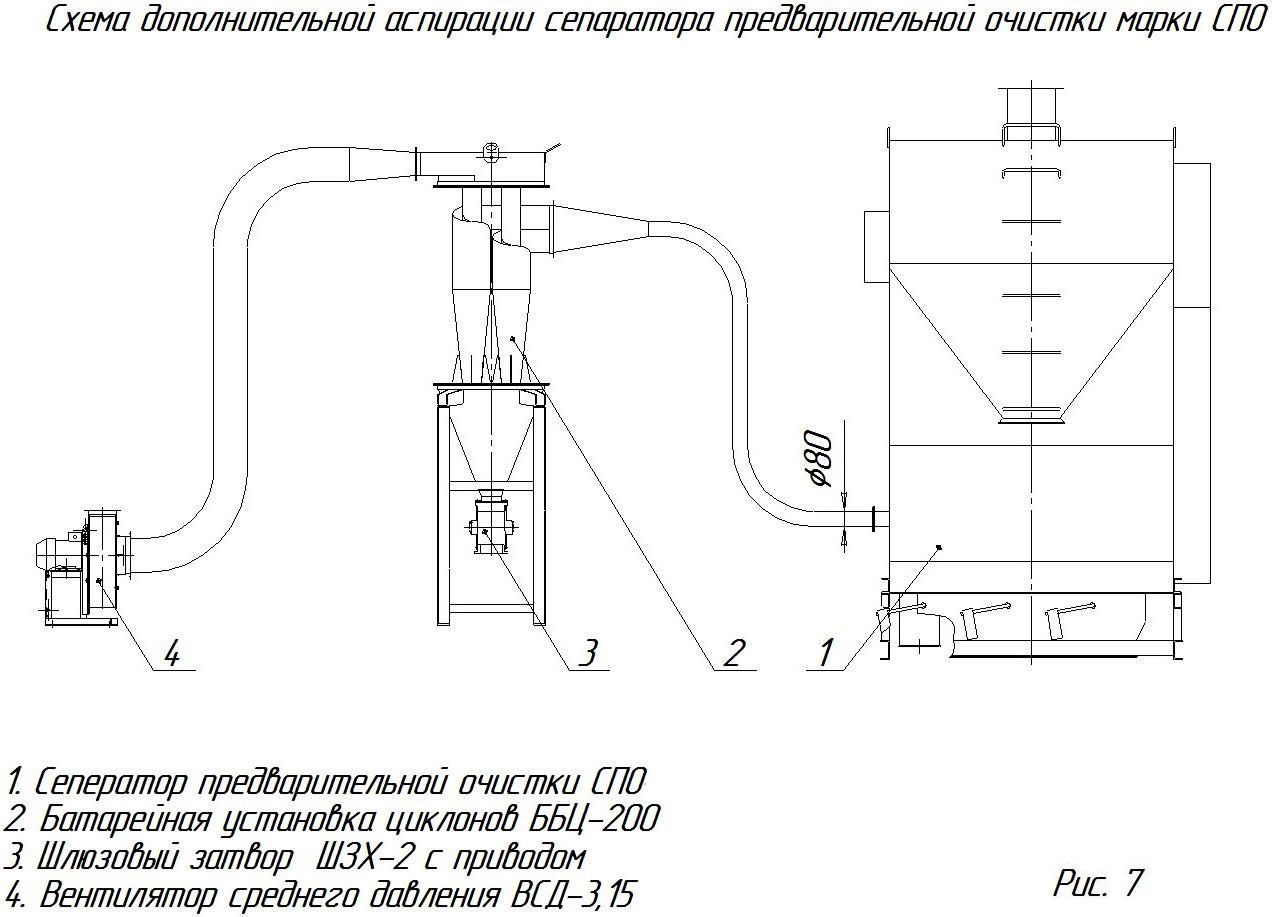 [5]. "grain separation in air ducts of grain cleaning machines doesn't provide sufficient quality that caused by short-term impact of air flow on processed product particles and downfall of air speed near walls"
"Pneumatic separator operations improvement due to the rational supply of grain mixture to air flow", ABSTRACT of dissertation, Chelyabinsk, 2008 Tavtilov I.Sh., "Orenburg State University"
[6]. "Modeling of pneumatic separation process and dust control of sunflower seeds in air flow" by Didur V.À., member of IAAE, DScTech, prof. Tkachenko À.V., Candidate of Engineering Sciences, Tavria State Agrotechnological University, Melitopol, 2013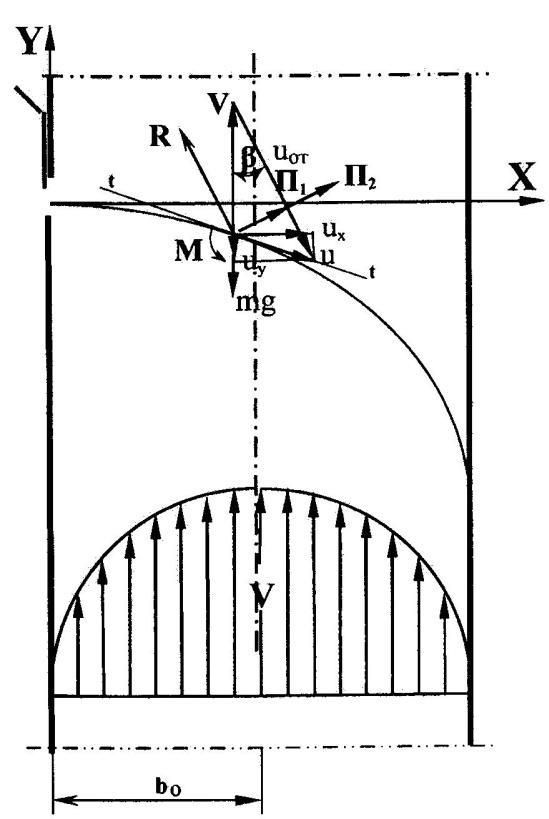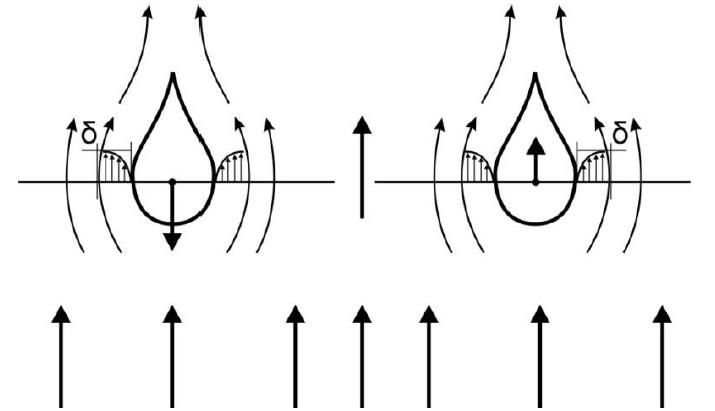 "During flow over adhered particles in surrounding layer relative speed of particle in the air flow varies from zero to a certain value … Thus detachment of adhered particles by air flow is inextricably bounded up with surrounding layer structure and velocity distribution in this layer."

[7]. "Separation processes at the grain-processing enterprises" by V.V. Gortinskiy, A.B. Demskiy, Moscow, Kolos, 1980.
[8]. "Improvement of grain cleaning machines operation efficiency by upgrading their basic actuating elements and aspiration systems with fractional separation" by Saitov V.Ye. ABSTRACT of dissertation, Cheboksary, 2014.