"Compound feeds-2017"
---
Our plant has participated in ÕI International conference "Modern compound feeds production" ("Compound feeds-2017"), which was held from 27th to 29th of June on the basis of International Industrial Academy. The conference was organized by Union of compound feed producers, Russian National Research Institute of Animal Feed Industry and International Industrial Academy.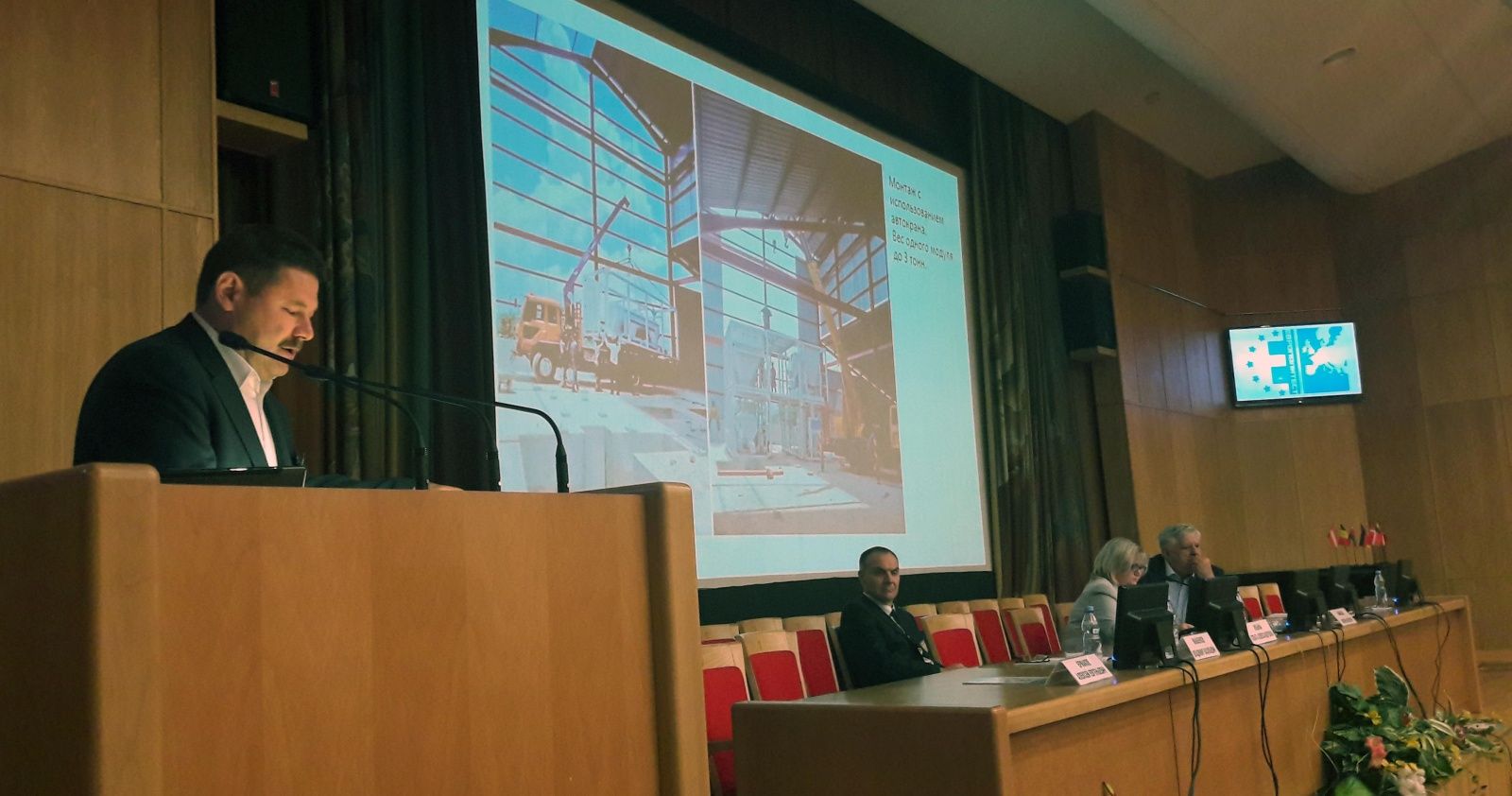 Abstracts of the report:

Topic of the report is "Modular feed mill. Fast. Reliable. High-grade", but different manufacturers put into this term different meaning. For example, "Technex" describes its modular feed mill, which consists of "individual process sections. All component elements are optimally assembled in each module that allows the most efficient use of available space. Modular feed mill can be located even in the fabric building eliminating the need to build new construction" – a quote from the website. We also apply such approach and more than 30 latest animal feed mills were implemented according to this scheme.
But we went ahead and developed such configuration, which Ottevanger (ancestor of this direction) refers to as Containerised Mills, that means plant designed according to modular principle, which modules are placed and transported in supporting frame container. The transportation can be carried out both by usual euro-trucks and by shipping containers. Precisely such plant we putted into operation in Uganda month ago.
Further is a comparison of Ottevanger advertising booklet and comments from our real experience.
Ottevanger: "The complete unit is pre-assembled in the factory, thus reducing installation time on site by 80%. The plant can be erected in a short timeframe" – we confirm that in Uganda poultry feed mill with 4 t/hour throughput under the supervision of our two specialists and local team of 8 people was installed in 24 working days starting with removing the first module from the container carrier and finishing with the first ton of compound feed. And the business is working, compound feed is on the market, costs begin to pay off. Moreover, this term includes installation and configuration of two additional add-on modules to the main containerized block for the production of crumbled animal feed – the module for cleaning of incoming grain and the granulation line.
Ottevanger: "The complete electric control is part of the delivery and can be extended to a fully computerised system" – in our base supply is fully automated system based on the data gateway with built-in web server WebHMI. Customer also receives an opportunity for direct control and monitoring through web-browser – over the local network or Internet access from anywhere in the world, from any device – mobile phone, tablet, laptop, computer – simultaneously from different places, without limiting the number of users or purchasing any other licensed product. On customer's request we can implement the control system using leading SCADA systems – InduSoft Web Studio or SIMATIC WinCC, which we apply at larger objects.
Ottevanger: "The containerised mills can be supplied in the range of 1 to 45 tonnes per hour. The equipment is installed 20-foot container which can be handled as separate modules. The frame of the container has two functions. The frame is not only used for shipment it is also the steel structure of the machine tower" – this is also true for our solution. We have two containerised modular feed mills in our current product line with throughput 4 and 10 t/hour, but we can also produce plant with similar design for any required capacity and functionality on customer's request.
Ottevanger: "All components are reliable and tested. Assembled and checked in factory before despatch" – we also apply equipment used at large animal feed mills that allows to produce compound feeds in accordance with GOST quality standards and even higher. In particular, our horizontal scraper-blade mixers prepare compound feed with homogeneity 95% that has been many times confirmed by the research results on the quality of mixing in leading European laboratories. Moreover, these researches are carried out by companies that simultaneously operate both, plants equipped by Khorolskiy Mechanical Plant and plants equipped by Van Aarsen. You may find copies of such researches at our website.
Ottevanger: "Low freight costs and easy handling. Saving on civil and building costs" – transport costs may be a little bit higher, theoretically the equipment in disassembled form can be packed more densely…, but when loading or unloading 40-foot container or euro-track, in our case only 2 crane lifts are required. At the same time, container module storage at the site is much easier (and more reliable) than boxes, which also need to be unpacked…and installation – lifting of the module by crane significantly differs from dragging individual equipment elements onto floors.
Ottevanger: "Complete with all electrical and compressed air systems" – all the same.
Ottevanger: "Low energy consumption" – it does not depend on whether the plant is containerized or not.
Ottevanger: "Easily to expand" – divisive issue, if there is a free space near the module, additional modules also can be putted, but to replace the mixer inside by a larger one is unlikely to succeed, in contrast to multi-stage schemes in large facilities. By the way, design of a site in Uganda provides an opportunity for productivity increase in future.
This concludes the comparison with Ottevanger. Why I compared equipment with them? We have to chase the leaders and that's we actually do.
I would like to focus on the one distinguishing feature of the animal feed mill of modular design LPK-3m. Eight bins are installed as a part of the basic unit that provides an opportunity to apply eight components in one mix formula. Four 9 cubes bins for macro components – wheat, maize, barley, oil meal – 25% and more of the feed composition. Total weight is about 15÷18 tons. Two 1 cube bins for such components as bran, meat-and-bone meal tankage – 5÷10%. Total weight is about 1,5 tons. Two 0,5 cube bins for such components as fodder lime, salt – 2÷5% with total weight about 1 ton. Thus, the feed mill has components reserve for 3÷4 hours, which is replenished if necessary through dump pit and bucket elevator for supply to four main bins.
1 cube and 0,5 cube bins are specially designed in such a volume that the reserve of such components as meat-and-bone meal tankage, salt, fodder lime (which become caked fast) won't exceed storage for more than one shift – 8 hours. As such components are usually supplied in 20÷50kg bags, they can be loaded directly into the bins past a dump pit. In the analogues compact schemes (no matter how they are called) of other manufacturers bins for operational storage of components along with transport equipment for continuous operation with rated capacity are not included into the commercial offer and compose additional cost.
Price for LPK-3m designed for Uganda (4 t/hour throughput) with additional module for grain cleaning at the input is 140 000 $ (without granulation) in terms of FCA Khorol. Weight is 27 tons, that means 5200 $ per one ton of equipment weight with supporting constructions, including cabling and wiring products, automatic control system with Internet access, complete with gear-motors STROJNA (Slovenia), bearings SKF (Sweden) and pneumatics FESTO (Italy).
Our equipment has much in common with foreign-made one in its technical characteristics, operational principle and functionality. At the same time customer has an opportunity to choose the most important completing units of the machine – domestic or foreign-made. Despite the fact that reliability of our equipment is confirmed by the real service life of our products, which significantly exceeds the estimated one, the construction and arrangement of our machines are based on maintainability. We apply standard and widely distributed, produced by many manufacturers – electric motors, drive belts, bearings, which can be quickly replaced by customer. For example, mounting seats for electric motors allow the installation of motors with different dimensions. As a result, Italian customers order horizontal hammer mills without electric motors, while Russian customers ask to complete their order with electric motors from Vladimir Electromotor Plant.
When our potential customers from Kazakhstan ask where they can find operating animal feed mill of our production, we confidently answer that in Karaganda, where we also have our modular feed mill in operation. Since the end of May there is also an operating LPK-3m in Uganda. I am sure that within a year we will be able to direct potential customers not so far away.